Bücher
Joan Crossley's Books
Isabel's Choice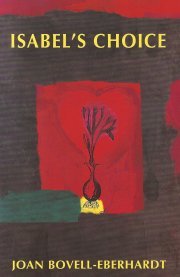 Isabel loves David and David loves Isabel. Or does he? For three years, their relationship has forced her to live in the unreal twilight zone of the mistress, while he continues to share the pains and pleasures of everyday life with his wife, Hannah, and their teenage daughter, Jeanette.
Hannah is a home-maker and Isabel an independent career woman whose only reminder of a long-finished marriage is her beloved son, Philip. The women are poles apart; the one thing they have in common is their selfless love for David, who cannot - or will not - choose between them.
But time and circumstance conspire to change things. The extraordinary friendship that develops between Isabel and David's mother, Helen, together with a chance meeting with an old school friend, connect the past and present. And for Isabel, a new life begins ...
Triangle Square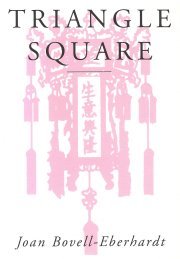 Following the death of her mother, Laura begins a reassessment of her life. She is reasonably happy, with her life in Kiel, with her job at the college, with her modest success as a writer, with her friends in and around the triangle platz at the top of Hill Street, fondly known in English mistranslation as Triangle Square. But there is still something missing. And so she embarks on a search for the father she never knew, a search initially conducted by letter as she uncovers the branches of the Colbourne family both closely and distantly connected with her: a search that is also carried out in her mind as she unearths emotions and memories from her childhood in Britain. When she eventually traces her father, she is too late; he has died years before. However, as a legacy in the few papers he left behind, she finds reconciliation with him and with her own identity, and the courage to be able to face the future.
Dreiecksplatz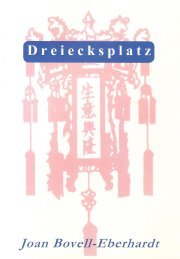 Nach dem Tod Ihrer Mutter beginnt Laura Franzen ihr Leben neu zu überdenken. In Kiel lebt sie ziemlich zufrieden. Sie hat ihre Arbeit am College, ihren bescheidenen Erfolg als Schriftstellerin, ihre Freunde am und um den Dreiecksplatz herum, oben an der Bergstraße. Aber etwas vermisst Laura. Sie begibt sich auf die Suche nach ihrem Vater, den sie nie gekannt hat. Diese Suche, zunächst mit Briefen, führt sie zu der Familie Colbourne, mit der sie sowohl entfernt als auch näher verwandt ist. Die Suche findet auch in ihrem Inneren statt: Gefühle und Erinnerungen aus ihrer Kindheit leben wieder auf. Als sie schließlich die Spur zu John Colbourne findet, ist es zu spät; er ist schon vor Jahren verstorben. Die wenigen Aufzeichnungen jedoch, die er hinterlassen hat, sind für sie wie ein Vermächtnis, das sie mit seinem Verlust versöhnt. Laura findet zu ihrer eigenen Identität und bekommt den Mut, der Zukunft entgegenzusehen.
Miss Sophie and Other Lives
This is a book of stories for you to read in your own free time for pleasure and diversion. You may choose to do this with members of a group in a class of adult education where you can talk about the stories together.
You may prefer to read by yourself in the evening in a cosy sitting-room, like some of the people you will "meet" in these pages. It is to be hoped that you will make new discoveries about the British, whose language you have learnt so far; about such persons as Henry VIII and his daughters Elizabeth, or the adopted Englishmen, George Frederick Handel and Johann Christian Bach. Miss Sophie is at last prepared to talk about her past and it's not the same procedure this time.
You may be surprised to meet a cat, a banknote and some pudding recipes. You can help Inspector Golding and Sergeant Byrd with their enquiries. You can sigh with the people who are in difficulty or in love.
Your English is good; enjoy it as you read this book, and as your story-teller I will be happy if sometimes you smile.
Pandora's Package and Other Stories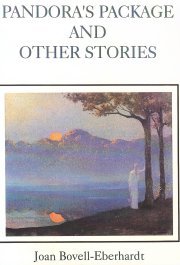 A dazzling and varied collection of short stories ranging from the supernatural to the exploration of every day life. Always witty, always intriguing, a delight for the reader who wishes to be surprised.
---